Bart Ballast-Manikin

Bart - our established seating test professional

As supplied to leading manufacturers and testing industries

The Bart is a ballast dummy that can the filled with water or other materials (e.g. sand) to simulate different weights of a person in a seat testing situation.

Great properties of the Bart are:
• low net weight (6,8 kg)
• reusable
• suitable for all standard vehicle seat designs
• moulded seat belt slots provide secure placement of dummy during
testing
• Water fill marks serve as a guide to achieve desired weight
specifications
• according to customers' wishes 4 different locations of the filling and
drainage hole are available.

A Bart completely filled with water has a weight of 80 kg.

Testing situations in which the Bart can be used are:

In the area of vehicle/air craft industry:
safety belt
roll-over bar
tire traction
acceleration
braking
accident simulation.

In the area of amusement parks:
Roller coaster and other rides
initial ride set-up
loading
restraints.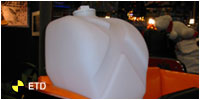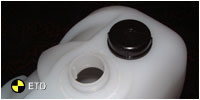 Our Address

ETD


Owner:

Robert Berwick
Vossn Weg 4,
Hittfeld,
D-21218 Seevetal


Germany


Fon +49 (0) 4105 2008 /9
Fax +49 (0) 4105 2000
ISDN +49 (0) 4105 635120
Mobile +49 (0) 173 928 4925